Mitzvah Cooking
Mitzvah cooking at Temple Emanu-El started in 1989 ... as a result of the Temple's Sisterhood recommendation, after having met with Stephanie Held, a congregant, who was one of the founders of Bryan's House (a facility for children affected by the HIV virus). The Bryan's House board had hoped for 300 meals every month for their clients. Alvin Herzmark was asked if he thought that Brotherhood could undertake this mitzvah project.
Alvin presented the idea to the Temple Emanu-El Brotherhood who approved and funded the initial effort. The Mitzvah Cooking program has now grown from that 4 to 5 man team producing 300 to 400 meals every month to a team of 10 to 12 cooks that produce about 2,500 meals each month. The cooking is done on the first Sunday of each month beginning about 5:15 AM and is completed and distributed by 9:15 AM.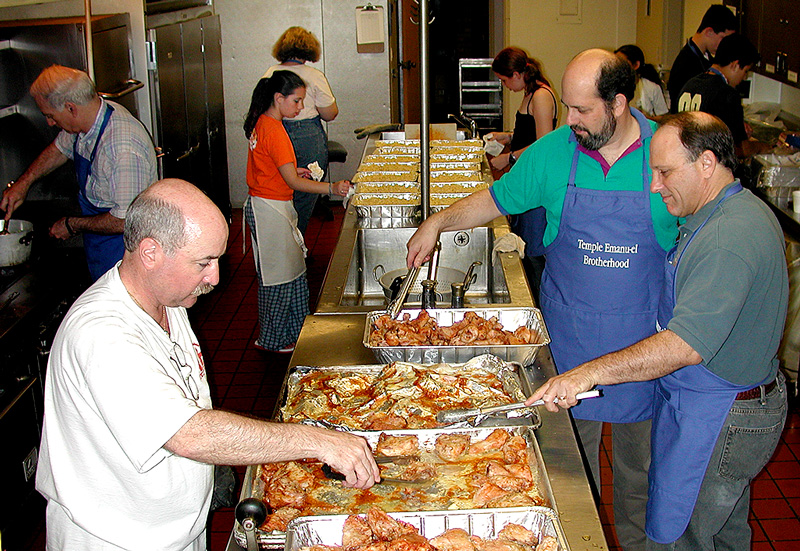 In the beginning the program was desperate for both cooks and funds. However, as it gained experience and publicity, more volunteer cooks arrived in the Temple Kitchen and a rotation of cooking personnel began. Eight to ten cooks are selected for a list of about two dozen cooks for each cooking session, plus several pre-Bar and Bat Mitzvahs volunteer as part of their community service. Additionally, the Brotherhood added Mitzvah Cooking to its annual budget, allowing additional flexibility. With more money and more cooks the program added Jonathan's Place and CHAI (Community Homes for Adults) to the mix. With the addition of more recipients, the program now receives donations from congregants and others.
On the first Sunday of each month the Mitzvah Cooking program currently prepares about 75 pounds of meatloaf, 280 pounds of chicken, 40 pounds of spaghetti with 14 gallons of sauce and 20 pounds of meatballs, and 40 pounds of macaroni with 15 gallons of cheese. Until 2009 about 30 pounds of Turkey Tettrazinni was cooked until feedback indicated that the kids were no that interested in it.
For several years Alvin had written thank you letters to the various donors. Those letters were eventually replaced by letters that now come directly from the recipient agencies themselves and are more effective.
Alvin has said, "I don't know whether the agencies or the cooks get more satisfaction out of the cooking. I do know that when the last van leaves with the food, there is a great feeling of a job well done."
After thirteen years of leading this program, Alvin is retiring from managing the program -- although not from involvement in it. He still plans to show up every first Sunday to make sure the cooks are continuing to do a good job. The role of coordinating the Mitzvah Cooking program will now be assumed by Buzz Deitchmann who for the past several years has been the head chicken roaster.
For anyone wishing to help with the Mitzvah Cooking program by either cooking or contributions, please contact Buzz Deitchmann by phone at (972) 960-2600 or by email at bdeitchman@tebrotherhood.org.