Shofar Factory
Annual Shofar Factory for 5th Grade Religious School
Each school year the Brotherhood's annual Shofar Factory provides material, tools, and instruction to the Fifth Graders in the Temple's religious school so that each student can make and have their own personal shofar.
The class of 60 to 70 students is broken into two sessions of 30-35 each. The students are shown a video providing background about the use and manufacture of shofars. Then they are provided with detailed instruction explaining which animals horns are kosher for making shofars, the removal of the interior cartilage from the horn, how to determine the length of tip to remove from the horn, how to cut and drill the horn, how to sand and polish the horn, and most importantly, how to blow it.
Brotherhood members then mentor the students and help them build their shofars so that all end up with working shofars. Additionally, our Temple's master shofar blower and Brotherhood member Jon Karp provides final instruction on blowing the shofar so that all the students would know how to use their shofars. Jon cautions the students that blowing the shofar well takes. They all then leave being able to make at least some sounds from their shofars. The students are expected to practice so that at the next High Holy Days they can bring their own shofars to the services and sound them along with Jon and his team of skilled shofar blowers.
While this program is conducted in concert with the Temple Emanu-El Religious School and its directory, Rabbi Amy Ross, it is completely planned, run, and funded by the Brotherhood.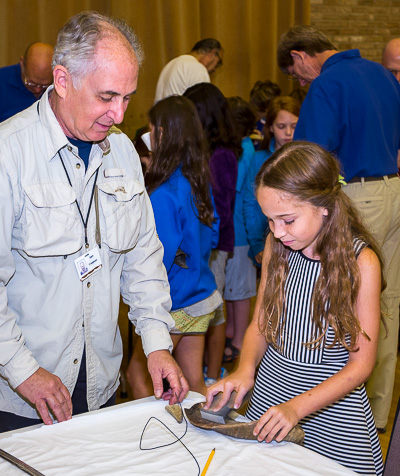 The impetus for the Brotherhood Shofar Factory came from an experience at the 2010 National Scout Jamboree by Stephen Shore, former Brotherhood president and current historian. At the Jamboree the National Jewish Committee on Scouting ran a Sunday morning program where, along with other activities, over 300 Jewish Scouts made their own shofars. After seeing the excitement and enthusiasm for this program by the Scouts, Stephen brought this idea back to Dallas and obtained agreement from the Brotherhood that they should run and fun a similar Shofar Factory. Stephen is also the chair of the Dallas Jewish Committee on Scouting and was publisher of Jamboree Today 2013, the daily newspaper of this past July's Scout Jamboree with an attendance of 32,000 Scouts.